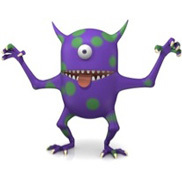 It's easier to eat healthy food when mealtime has some fun thrown in every so often. So why not get those Halloween toes tapping with the oldie, but goodie, songs that make us cringe or smile at the thought of ghosts and goblins?
The following suggestions WILL set the absolute right mood you're hoping for as you goblin up all that orange and black food on your plate—you choose to go scary or more light-hearted...
Who You Gonna Call? Ghostbusters!
Do the Mash... the Monster Mash!
And billboard has the Top 10 Halloween song list in case you're interested in even more.