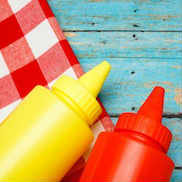 Get a big ol' blanket, order up some sunshine, and pack up your picnic basket for the Labor Day weekend. We have some tips and suggestions for how to make your outing as picture perfect as a warm summer day.
Food Safety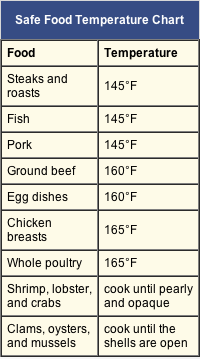 To protect against foodborne illness, we suggest following a few simple guidelines.
Keep cold food cold to prevent growth of bacteria. Cold food is safe at a temperature of 40 degrees. Use a cooler with freezer batteries or gel packs. Place your cooler in the shade while you're picnicking.
Pack beverages in one cooler and perishable foods in another cooler. This way, when grabbing a beverage you won't let in the warm air that can harm packed foods.
Securely wrap any raw meats, so their juices won't contaminate other foods in the cooler.
Thoroughly wash fruits & vegetables before packing up your cooler.
Cold or hot foods you are serving shouldn't be left out for longer than 1 to 2 hours. If the temperature is above 90 degrees-1 hour is the rule of thumb. You have to throw away food that has been left out longer than these suggested times.
Hot food should be cooked and kept at safe temperatures. Use the chart provided here.
Healthier Lemonade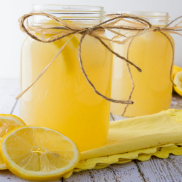 Mix 1/2 C honey and 1 C water in a saucepan over medium heat on the stove top.
Stir often until the mixture is boiling.
Remove from the heat.
Stir in 1 C lemon juice (squeezed from real lemons) and 4 C cold water.
Ladle into a pitcher and refrigerate.
Transfer to a thermos for your picnic.
Give a little shake or stir before serving.
Healthier Potato Salad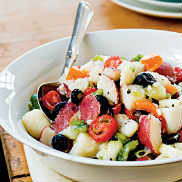 Serves 9 to 10
Dressing
In a large serving bowl, whisk together 1/4 C rice vinegar, 2 tablespoons canola oil and a pinch each of salt & pepper.
Salad
5 C cubed red potatoes (about 2 lbs.)
1 C chopped cucumbers
3/4 C sliced cherry tomatoes
3/4 C chopped green bell pepper
1/2 C chopped orange bell pepper
1/4 C diced green onions
1 (2 1/4 oz) can sliced ripe olives, drained
Cook the potatoes in a pot over medium to high heat on the stove top until tender (simmering for about 8 minutes after reaches boiling). Drain the water from the pot and add the potatoes to the dressing in the mixing bowl. Toss to combine. After about 20 minutes, add the remainder of the ingredients to the mixing bowl and toss to combine again.
Cool Stuff
We searched high and low and found some really cool picnic supplies. Slick picnic baskets, lanterns, portable BBQs, blanket totes, blankets with speakers, parachutes (yes, that's right), and more.