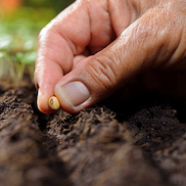 Spearheaded by an enthusiastic and committed lead staff member, this setting is heading outdoors with their improved health.
Lead staff, Carolyn, shared that they are so proud of consumer XX. He has made major strides. XX has "really embraced healthy eating thanks to My25. He is not binging anymore, blood sugar is improving, and he's making healthy choices (even when eating out or resident choice!). XX is also eating lots more veggies (even zucchini!) and has lost needed weight."
Spurred on by XX, additional people supported in the house are moving toward a healthy BMI as well.
Carolyn indicates that she is now involving consumers in mealtime prep. The house is planting a garden, which they are very excited about now that they have a new-found love of vegetables because of My25.
Carolyn and Keystone Human Services . . . we are proud of you and admire you! WAY. TO. GO.
And, of course, because we get so excited about news like this, My25 has sent off Certificates of Recognition, chef hats, and new gardening tools to the house.