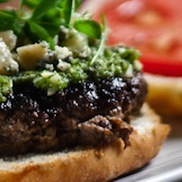 Step up this Labor Day and lead the way with these 56 burger recipes that are sure to have you thinking that healthy is tasty, indeed.

Click here for the likes of these healthier burger options: black bean, Thai chicken, jerk turkey, spicy Hawaiian, broccoli pistachio (yup!), balsamic Portobello, apple bison, sun-dried tomato and veal, and more, more, more.
Hmmm . . . 56 recipes . . . that's almost one each evening for two months. Sounds mighty good to us.