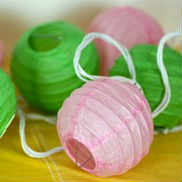 Inexpensive props help make your gatherings, whether indoors or out, more festive. We searched high and low to inspire and give you affordable ideas to use as you invite friends and family over to make memories together. Your bandwagon will love you for sharing . . .

Now how fun are these? Heck, even vanilla ice cream tastes ultra fun now.
Iced tea, lemonade, fruit punch, margarita-ville . . . basically, sky is the drink dispenser limit.
We think everything tastes better on a pretty plate and when we use funky napkins.
Does anything say "party" better?