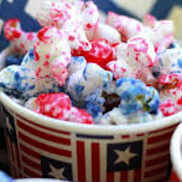 Add to all the festivities taking place for the upcoming holiday by whipping up a treat everyone will ooh and ahh over. We have a few different suggestions for how to make patriotic popcorn—which we think is just the way to show your true blue spirt on this holiday.
Food Color It!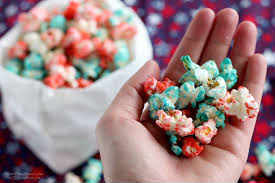 Pop your popcorn or use already-popped. Divide the popcorn into two different sealable plastic bags. Add a few drops of blue food color to the popcorn in one of the bags. Seal the plastic bag and shake to coat the popcorn with the blue food coloring. Add a few more drops of blue food color if you'd like more of the popcorn covered. Repeat using red food coloring and the second bag of popcorn. Add a little bit of food color at a time-you can always add more. Empty the bags of popcorn on to paper towels for a few minutes, so the food color dries. Mix the blue and red popcorn together in a pretty bowl.
Mix It!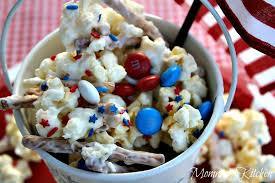 Mix together popcorn and blue and red M & M's.
or
Mix together popcorn and blue M & M's and dried cherries or cranberries.
or
Mix together popcorn and red, white and blue sprinkles.
Bag, Cup or Bowl It!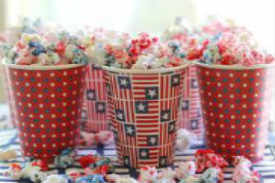 Serve your popcorn in red, blue, or star-studded bags or cups. Or use a red or blue bowl to get everyone singing the Star Spangled Banner while nibbling away.