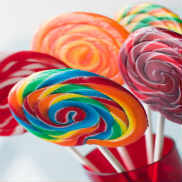 Easter & Passover are filled with family, meaning and fun. We searched high and low to bring you the best of the best, so your understanding and enjoyment of these special holidays are also the best of the best.
EASTER
This video gives you a little history about Easter.
Crafts & Food
Napkin rings, Easter baskets, frosted pretzel sticks, and more. Click here. Cool! And try our jelly bean bark recipe, Easter nests recipe and healthier Easter appetizers.
How to Dye Brilliantly Colored Eggs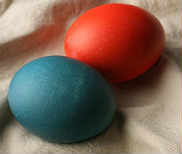 Put fresh eggs in to a saucepan and cover with cold water. Slowly bring to a boil over medium heat on the stove top. Remove the saucepan from the heat and cover with a lid. Let the eggs sit in the covered saucepan for about 10 minutes. Remove the eggs from the water and let them cool and dry.
For each different color you will be using to dye your eggs, mix together 1 cup water, 2 teaspoons distilled white vinegar, and 3/4 teaspoon food coloring in a large plastic, disposable cup.
Using a spoon, carefully put each egg into the cup of dye. Let the egg sit in the dye for at least 5 minutes. Using a spoon, carefully remove the egg from the dye and let dry on a baking rack (put the rack on top of a baking sheet lined with paper towels) or in the empty egg carton.
Repeat step 3 for as many eggs as you would like to color.
Note: If you would like to draw designs on your eggs, use a crayon right BEFORE step 3. The eye won't cover up your crayon design!
PASSOVER
This video gives you a little history about Passover.
This and That

Enjoy craft ideas and recipes for the likes of matzo pizza, cottage cheese pancakes, matzo huevos rancheros (yup!), noodle kugel and more.