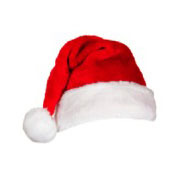 We share fun facts about Santa Claus and some ideas about the kinds of snacks he needs now that he's completed his journey around the globe.
Did you know?...
Santa had to travel faster than the speed of sound in order to make it around the world on Christmas Eve.
Due to time zone differences, Santa had 31 hours to deliver presents all over the world.
You can find out how far it is from the North Pole to your house and the route Santa took to get there.
Santa married Mrs. Claus in 1849.
Rudolph joined Santa's reindeer in 1939.
Santa has different names in different parts of the world, including: St. Nick, Father Christmas, Black Peter, Kris Kringle, Pere Noel, La Befa, SinterKlass, Shengdan Laoren, etc.
So what's the best kind of snack for Santa to nibble on now that his big job is done until next December 24?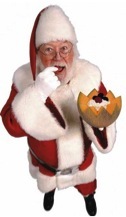 Remember, Santa: Fiber is filling and a super nutrient. If Santa eats snacks high in fiber he will stay healthy and feel full. He'll also be less likely to snack on too many leftover candy canes and chocolates.
A snack high in fiber would be food with more than 2 grams of fiber per serving.
Santa can figure out how many grams of fiber are in foods by looking at the nutrition facts label.
Fruits and vegetables are fantastic sources of fiber as are foods made from whole grains.
Santa Treats
Santa, we think you should consider the following energy-boosting treats:
Fresh fruits & veggies
Oatmeal raisin cookies
Popcorn
Almonds & walnuts
Raisins, dried cherries or Craisins
Dried fruits
Trail mix or Fiberpalooza snack mix (recipe found in My25's Browse Recipes)
Whole wheat crackers or pita with cheese or hummus
Peanut butter on whole wheat bread
Granola bars