Connecting with others (your bandwagon!) surrounding mealtime and eating better is how most of us create shared responsibility and accountability for improved nutrition. So the art of conversation is important and we want to help in any way we can.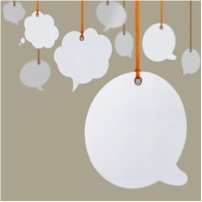 In addition to the pointers in the video we posted above, the following are a few key tips when it comes to enjoyable, meaningful conversation.
Don't interrupt others while they are speaking.
Listen to others.
Show interest and ask questions about what you just heard.
Share stories and information about yourself, but don't monopolize the moment with "all about me." Remember that "give and take" includes "take."
Try to have an open mind and respect other peoples' ideas, beliefs and thoughts, understanding that you may not agree about everything and don't have to agree about everything.
Be interested, interesting, kind and thoughtful and you won't go wrong.