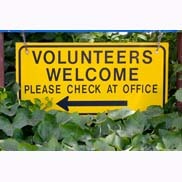 We're increasingly asked to share our experiences helping community-based residents volunteer in their surrounding communities. We, of course, like to focus on opportunities related to food, nutrition and preventive health.
Volunteering to help at a local food pantry, soup kitchen, bake sale, or to hand off water to marathon runners are proven ways to raise the bar and strengthen the town in which you live—all of which underscore a volunteer's value as a contributing citizen.
A fire station in northern Wisconsin recently hosted an open house for the locals to stop in, get blood pressure readings, and familiarize themselves with emergency services in the area; residents from the human services agency down the block enthusiastically manned the refreshment tables for the event.
With this type of volunteer effort—which we find is extremely doable and enjoyable for many people supported—there is immediate payback for the individual, the provider organization, and the community. No other way to describe this: It's a bonanza.