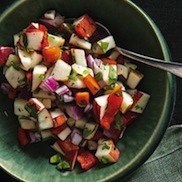 We've got some ideas for what the whole household will not only enjoy eating, but preparing, together. You might even want to organize an outing to pick the apples you'll use in these recipes. Now that's the definition of creating enjoyment surrounding healthy eating!
Remember . . . eating 25 grams of fiber a day is healthy. An apple (with its peel on) has about 5 grams of fiber. Woo Hoo! Fiber is a super nutrient that naturally fills you up, so you're less likely to snack on empty calories. Plus, fiber also has heart disease and cancer prevention benefits. Ditto on the Woo Hoo!
Brief Info About Apples, Including Fiber Benefit
Apple Recipes

For the likes of apple butter, sandwiches, soups, quesadilla, salsa and much, much more applely goodness, click here.

For the likes of apple slaw, caramel apple popcorn, apple protein shake, and a few other mega wonderful recipes like these, go browse.