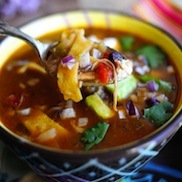 White meat chicken is a lean protein, and we like it! There are many ways to use chicken breasts easily and creatively, so you never tire of this nutritious and satisfying menu staple.
We suggest filling your plate with 25% (or 1/4) lean protein at mealtime, as often as you can.
While not necessary, we like to bake or grill a supply of lightly seasoned (with salt and pepper) chicken breasts that we keep in the My25 freezer, so we have this go-to food cooked and ready to . . . go! This way we can turn on a dime to make whatever fits the bill and sounds most appealing on any given day.
Use chicken breasts whole, diced, sliced with—or as an ingredient and part of—sauces, marinades, rubs, pizza, sandwiches, soups/stews, and salads. For specific recipes, additional ideas, and the made-from-scratch suggestions noted below, click here.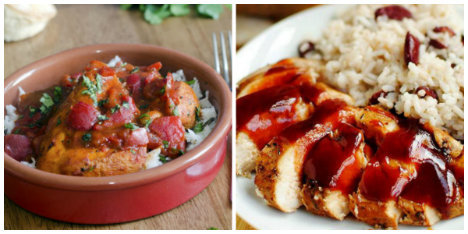 Sauces
Twist open a jar of your favorite marinara, pesto, Alfredo, gravy or teriyaki sauce, heat, and pour atop a cooked chicken breast for instant flavor. Salsa on the side—no heating required—also gives a tasty kick.
Easy-to-prepare sauces from scratch that tempt, include: lime, mushroom sage, tomato herb, etc.
Rubs
A rub is just what its name suggests—you rub spices onto the chicken breast before cooking as a way to add enticing taste. You can combine your own favorite spices to create your own signature rub, or you can prepare these versions from scratch: brown sugar spiced, cayenne, cocoa and curry, and more.
Marinades
When raw chicken breasts soak in liquidy goodness, flavor is infused into the meat and juiciness is enhanced. The longer the marinating (as in overnight in the refrigerator, if you can), the more taste you add. Even soaking chicken breasts in a sealable plastic bag with Italian salad dressing bumps up zestiness—and how easy is this? Or, consider these made-from scratch ideas: Jamaican jerk, cilantro Thai, Greek, and Hawaiian.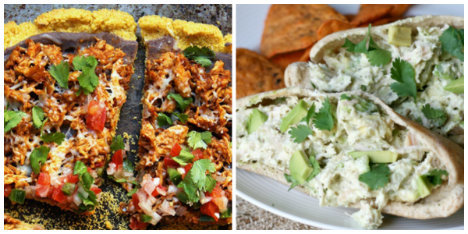 Sandwiches & Pizza
Either slice or dice a chicken breast to create sandwiches and pizzas that use this lean protein in inventive ways. Add cooked, diced chicken breast to frozen pizzas before baking. Or make from scratch: chicken pesto sandwich, bbq chicken & grilled cheese sandwich, chicken pesto sandwich, chicken tamale pizza, white chicken pizza, and more.
Soups & Stews
From scratch: chicken tortilla, Chinese chicken noodle, chicken & dumplings, quick Irish chicken stew, and more . . .
Note: We searched high and low and found the best suggestions for you at greatist.com—which is where the above make-from-scratches ideas come from . . .