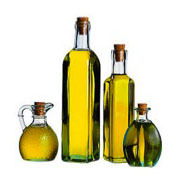 Let's do some tweaking as far as the cooking oils you keep on hand and use—because there are healthy and unhealthy choices involved.
Just so you know . . . opinions about oils are widespread and controversial. We'll try to keep our information as simple and straightforward as possible.
Oils used for cooking (including as an ingredient in recipes that don't require cooking) are often classified as either good or bad. The classification has to do with the type and amount of saturated/trans fats—which are unhealthy—contained in the oil. So you want to try and avoid saturated/trans fats as much as possible.
The following are on a lot of "good oils" lists—the healthier ones to stock in your kitchen. While we use virgin olive oil for a whole variety of uses, canola, safflower, peanut and sunflower oil are often suggested as the way to go for frying. Olive oil can break down at a high heat.
Olive
Canola
Sunflower
Soybean
Flaxseed
Peanut
A short and sweet overview of "good oils" is provided through the following video. The information is a bit more on the "never use this" side than we are, but the bare bones of the content should be helpful. And as always, please get in touch with any specific questions you might have: info@my25.com. We're happy to help you find the answers you need.