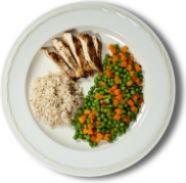 Better health can absolutely be achieved by following some easy fundamentals that we've repeatedly demonstrated are tried and true. Print these off and go to healthy town . . .
Click here to get Mainstay's My25 Fundamentals For Healthy Eating & Better Health. And remember, we're a moderation not a deprivation approach and we subscribe to The Dietary Guidelines for Americans. Most foods are fair game as long as you follow the basics we've outlined.
Right about now, we bet you're wondering where the name "My25" came from, right? There are 2 parts—the "25" and the "My."
1. Eat at least 25 grams of super nutrient fiber each day.
2. Portion your plate at mealtime with 25% lean protein, 25% healthy starch, and 25% fruits and 25% vegetables (or make that 50% of your plate vegetables).
3. Get 25 people (or a bunch) to jump onto this eat-better bandwagon with you because friends and family help create shared responsibility and accountability for your improving health (and theirs!).
4. "My" signifies taking ownership.
If you'd like more information about fiber, how to make vegetables taste good, and how to read a nutrition facts label, watch these brief videos . . .
Fiber
Make Veggies Taste Good
Read Nutrition Facts Label