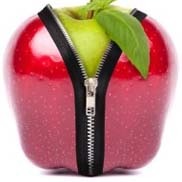 It's possible for EDs and Directors of Residential to encourage staff and consumers to eat better without coming across in a heavy-handed manner. There are subtle, effective ways for key influencers within provider organizations to get people thinking in the right direction. And nothing suggested below is all that time consuming!
Decorate your desk/walls with cool photos of fruits and veggies.
Because sharing goodies is routine in many workplace environments, bring in healthier treats instead of same old, same old donuts.
When eating lunch with others, eat better.
Say congratulations and give a pat on the back when those around you are improving their health.
Talk about recipes and articles you've enjoyed within the My25 Portal.
At the company picnic, don your Fiber Nerd baseball cap (Don't have one? Let us know!).