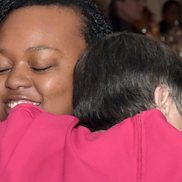 House manager Renee exclaims that "changing up longstanding mealtime habits isn't a chore, it's an opportunity to educate consumers and staff to create important change." Yes ma'am!
Renee notes that there are times when consumers don't want to eat what is on the menu, so she suggests a dinner from a different day. Then Renee tries to work the skipped meal back in later in the week, knowing that moods and attitudes often change on a day-to-day basis. Plus, the world of food is large with tens of thousands of items, so it sometimes takes some tweaking to get to what everyone likes to eat—but fortunately, My25 gets to smooth sailing relatively quickly when great house managers like Renee are reaching out to request menu changes.
Renee also organizes the cupboards, putting things like bran flakes and perhaps least favorite, but healthy, items in front. Renee points out that people supported are now enjoying more fresh fruits & veggies because of these efforts and My25.
Hats off to Renee and Community Interactions! We think you're awesome!