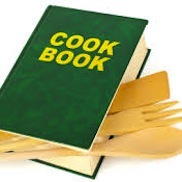 You can galvanize eat-better momentum within your organization by publishing an eye-popping, useful cookbook. We map out how to get it done—with some flair and a focus on all-important fiber.
When finished, the cookbook will be a beneficial resource and source of pride for all of your constituents. It will make a positive wellness and culture statement. Organizing the cookbook is where a lot of camaraderie-building, enthusiasm and opportunities to learn come into play—all of which are valuable in your efforts to instill eat-better awareness and knowledge.
Here's how to tackle this worthwhile undertaking . . .
• You need a person(s) in charge. A committee of helpers is . . . helpful!
• Announce the cookbook project and let everyone know why you're doing this. (To: share favorite, old and new recipes with one another; put a spotlight on fiber; and create enthusiasm and momentum for eating better so health improves—because good nutrition is the key driver behind preventive wellness for most everyone.)
• Consider some kind of "prize" for anyone submitting a recipe. Ideas include: gift cards, kitchenware, high-fiber items such as fresh fruit, t-shirts, Fiber Nerd caps, and other options that make sense for your unique group.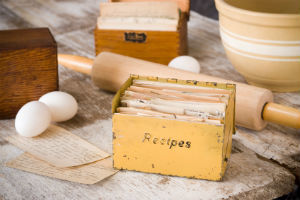 • In addition to the above, map out details in your communication regarding these points:
1. Recipes need to be clear, easy to follow and organized and submitted in the following way as a Word document (provide an example):
How many the recipe serves
Ingredients
Prep Steps
The name of the person or persons to be noted as submitter
2. Decide if you're going to restrict recipes to any type (such as flavorful vegetables, appetizers, entrees, desserts, salads, etc.). Many organizations keep it wide open, but it's a choice you make and need to communicate.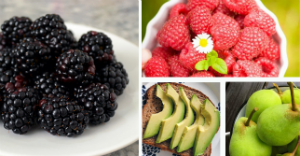 3. Indicate that recipes must use at least one or more items high in fiber. Submitters can use My25 resources to help figure out which foods are high in fiber.
4. A photo of the recipe is optional, but if submitted, snapshots should be crisp and clear.
5. Due date and contact details regarding the submission.
• The cookbook committee proofreads and makes corrections to grammar and spelling across all submissions and organize the cookbook from cover to end.
• Decide on the format for the cookbook. You might go the route of having your cookbook printed and available as a hard copy version; it becomes a visible demonstration of your collective eat-better efforts. But you can also publish as an app or web-based e-book. Below are some resources that will be helpful as you research the various options.
Make Your Own Cookbook App & eBook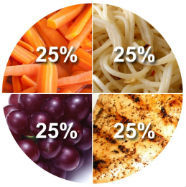 • Once you choose your printing method/vendor, focus on the cover. You'll need to pay attention to any outside publishing vendor specifications for the cover. We encourage you to mention fiber prominently (and throughout the pages, sprinkle in My25's recommended plating guidelines—25% lean protein, 25% healthy starch, 25% fruit and 25% vegetables). You can always create a competition for cover design. There can be a constituency-wide vote for a winner or the cookbook committee can make the decision.
• Make a splash when your cookbook is finished and ready for prime time. There should be a lot of hoopla associated with this event. Consider charging for the cookbook to help cover any outside costs and to possibly provide a donation to a local soup kitchen or organization supporting people with disabilities who are in need of better nutrition. Suddenly, this project becomes win-win in the best way possible. By raising your own eat-better bar, you help others who are similarly in need.
• Frame several copies of the cookbook cover and mount these throughout your organization.
• Make sure all constituents and stakeholders of the organization are aware of the cookbook.
• Highlight the cookbook at organizational events and consider having annual Taste Of events . . . or cook-off competitions that pull recipes from your book.
• Be even more creative with how you will leverage this big, bold, beautiful cookbook.
• Print a new edition every so often.