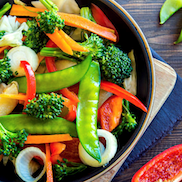 Who knew veggies could appeal to so many people? ResCare Lewisburg, that's who!
House manager Celest points out a simple solution regarding encouraging people supported to eat more healthfully, including lots of fiber-filled veggies. Let them choose how to flavor the likes of broccoli and carrots!
Consumers "take turns using My25's Bump Up Veggie Chart to pinpoint the flavor of the day." And suddenly vegetables have incredible appeal. My25's chef always says, "When you make it, you own it."
Hats off to Lewisburg for figuring it out, committing, and being so enthusiastic. You're an inspiration! A healthy inspiration!
Watch how to flavor veggies, so they taste scrumptious.