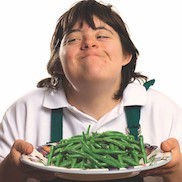 We've got some talking tips. Change is hard. But if you talk it through in the right way you're likely to get buy-in regarding eating the right foods in the right amounts.
1. First of all, it's important to think about the consumer and what they specifically like, value, and hope for. You'll use this information in your conversation. Including personal details makes the conversation more meaningful.
Consider: hobbies, sports, friends, family, jobs, cooking, clothes, shopping, dating
2. Arrange for a one-on-one conversation, trying to be in a quieter spot without interruption.
3. Explain to the individual supported that you're interested in explaining more about eating better and health improvement and why this is so beneficial to them personally.
4. As also shared with us by house managers and people supported who have improved their health, it can be helpful to explain that eating healthier foods is really important when it comes to feeling better, taking fewer medications, living longer, fitting into clothes comfortably, embracing exercise, and having the energy to do more as far as favorite activities (personalize when talking about these activities, referring to the list above) and attaining goals (such as getting a job, being more involved in the community, dating).
You can explain that not eating healthier foods often leads to very serious illness and gets in the way of activities and goals.

5. Explain that choice really means responsible choice. It was never the intention, and isn't today, that monies be provided for food purchases where choice is unlimited and creates unhealthy conditions and serious illness.
6. Explain that healthier eating doesn't mean not eating foods you love every so often. Healthier eating means making better choices on a regular basis and portioning the plate in a healthier way.
7. Explain that My25 has a whole team of people helping accomplish responsible choice for individuals all throughout the U.S. and can be helpful to the consumer, too. My25 is 100% dedicated to improved health and quality of life and makes it more possible to pursue activities and realize goals that are important to each individual (again, try to personalize here).
8. Suggest that the consumer get involved in flavoring vegetables using My25's Bump Up Veggie Flavor chart and/or flavoring healthy starches using My25's Jazz Up Healthy Starches chart. If you get a positive response to this suggestion, let us know and we'll send along chef's hats to help underscore this positive step toward involvement regarding meal prep.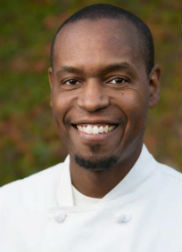 9. Consider offering a one-on-one conversation between the consumer and My25's Chef Charles. Chef Charles is happy to listen to food likes and dislikes and steer people supported toward recipes right up their alley.
Just let us know if this sparks interest and we'll get right on it!
10. Make sure that the consumer's food likes and dislikes are communicated to My25's Support team (menuchange@my25.com).
We never charge additionally for menu changes and always want to know how to address person-centered choice.
11. Spend some time on the My25 Elevate Portal (my25elevate.com) with the person supported and click around the site and its multi-media resources in 81 languages to engage the individual in all that is offered from a health and enjoyment of life standpoint. The My25 Elevate Portal is updated weekly.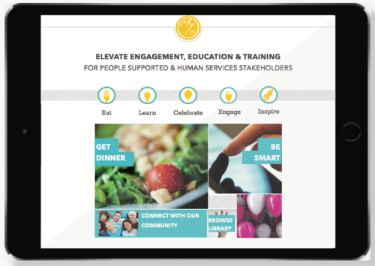 12. Use these resources to further help your understanding about helping consumers eat better:
When Consumers Refuse to Eat Healthier Foods
Eat Better In A Fast-Food Restaurant